1925 Jennie Giddens at Pea vine Road
Kenansville, Florida
I spent many hours talking to my grandmother Jennie Mae Giddens Cohen about her life and this is a compilation of what she shared with me. I hope you gain an insight into her life. Jennie faced much adversity in her life, however; through her pain and suffering, she became a kind, gentle spirit that changed and enriched the lives of all that have known her. Jennie's trial and tribulations has allowed the spirit of the Lord to lead her. Her life exemplifies what we aspire to be sharing, caring, forgiving and most of all loving.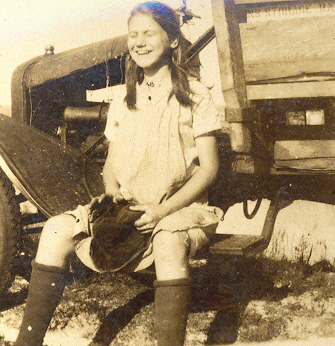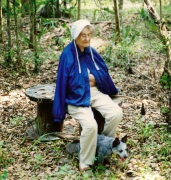 Jennie Mae Giddens was born on July 14, 1913 in a small town named Spring Place, Georgia, located just outside of Dalton, Georgia. Spring Place is abundant in Indian History because this is also the town that was the home of Chief Joe Vann (son of James) of the Cherokee Nation. Chief Joe Vann was credited with contributing more to the education of the leaders of the Cherokee Nation, than any other chief. His home was a two story brick building (1934picture) and was built in 1804 by James Vann. Herbert Giddens and his wife had a home in the field that lies just southeast of the Vann House. 109 years after Chief Vann's house was built, Jennie was born the summer of 1913 in the home of her parents Herbert and Evie Wyatt Giddens.

Jennie's mother's name was Evie Wyatt Giddens. Evie's mother Julia had died at the age of 26 and Evie had just turned 15 when she married the 25 year old Herbert Spencer (better known as HS). HS and Evie were married on April 24th 1904 in Ranger, Georgia at the home of her grandparents Isaac & Eugenia Wofford. Evie's uncle Milton Wofford performed the ceremony and Uncle Marion was a witness. Herbert Spencer earned his living in Georgia by farming and saw milling in and around Ellijay, Georgia. He hauled the timber from the mountains to the sawmills by use of mules and wagons.
In May of 1905, Evie gave birth to her first child John Herbert. In April of 1906 she gave birth to her second child Napoleon who died within five months. In April of 1908, while Evie was pregnant with her third child, she had to bury her first born son John Herbert. In August of 1908, Lillian (Big Sister) was born, Julia Wincie (named after Evie's mother) was born in September of 1910. In the 1910 census HS and Evie are living with his parents in Whitfield County, Dalton, Georgia. Jennie was born in July 1913 and Ralston Buell (Buell) was born in April of 1915. There were six children born to this family. Four of the six children survived.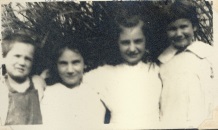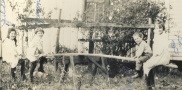 The two pictures below were taken about 1917 in Howardsville, Tennessee at Orizaba & Riley Giddens home.
HS is a farmer and by now Jennie's mother Evie had lost 2 children. After the death of her two children Evie became very ill, HS took Evie over to her father's house (Landon Wyatt) and dropped her off. Herbert then took his children to his parents Riley and Orizaba Gidden's house and he left for Florida to work sometime before April of 1915 since he was unaware of the birth of his last son Buell. Jennie was just small baby when she went to her grandparents house. She remembers lying on the floor of her grandparents floor and that her Big Sister changed her diapers. The reason she remembers this so vividly is because when Jennie threw her hand back, it broke the face of her sister's china doll. At the time, her grandfather Riley Giddens lived in Howardsville, Tennessee.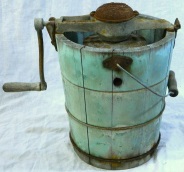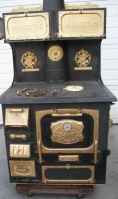 The one event that had a ma

jor impact on my grandmother was the burn she got while she was living with her grandparents in Howardsville. The family was over at Aunt Estelle and Lovies in Howardsville. They were churning ice cream. They sent Jennie into the kitchen to get a spoon. Big sister was in the kitchen washing dishes and had taken the iron tea kettle off the wood stove and set it on the floor. As Jennie ran through the kitchen, she knocked over the iron tea kettle full of boiling water. She was severely burned and carried the scars on her legs. A Doctor from Cohutta came over and it took 3 women to hold Jennie down while they peeled the blistered skin from her legs. Each week the doctor would come over to change the bandages until her leg healed. For many years Jennie and Big sister disagreed over the fact that it took three people to hold Jennie down. The disagreement was settled after a reunion trip was made to Howardsville. The group stopped at a store for drinks. Big sister began talking to the man behind the counter. He found out they were originally from the area. Big sister and the man knew the same people and then he found out Big sister knew his wife. He said you have to wait until my wife comes in to say hello. When she came in, he told his wife who Big sister was, and then the woman proceeded to ask how is the little girl that got burned so badly that I had to help hold down. The dispute was finally settled and Jennie was correct.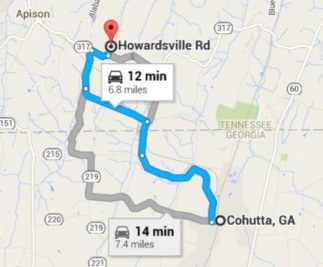 Today's map shows that it is only 6.8miles from Cohutta to Howardsville Road. However, if you can imagine traveling in the early 1900's, the road would have been a less direct route.
Jennie loved playing with fire. While in Howardsville, Jennie decided to go down to the barn and play with some kitchen matches. Jennie built her a nice little fire by the barn wall. She then decided she had better go in for breakfast and she carefully covered her ashes with straw and whatever else was there. She went into the house for breakfast and when her grandfather went out to tend the horses, he started hollering FIRE!!!. Jennie hid out in the hog pen, she knew she was in trouble. Her dad's brother Uncle Charlie found her, he knew her passion for fires and whipped her behind. Uncle Charlie was a school teacher and he never did marry. I have memories of granny poking sticks into the fire at the Bell Ridge camp, so it was apparent she continued in her fascination with fire. The burning barn happened just before the Riley and Orizaba sold their farm and moved to Fairbanks, Florida.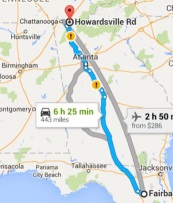 In the 1920 census, Riley and Orizaba are in Fairbanks with all four children of HS. Jennie remembers them being there from just before her first school term started until shortly before her second term was to begin. At that time HS sent for his children, Lillian, Julia and Buell. Riley, Orizaba and Jennie Mae moved back to Apison in Tennessee. Jennie attended second grade in Apison. Before Jennie's third term in school her father sent for her to come live with him in Kenansville, Florida. Uncle Charlie who lived in Dalton was sent to get Jennie, who was living in Apison. Jennie did not want to leave her grandparent's home, so she hid by going to visit a neighbors house.
HS had gone to work for the for the Florida East Coast Railroad as a pumper. A pumper's job was to pump the water out of the ground into the a tank that held water for the steam engines of the railroad. When the steam engines pulled into the station, a chute was swung over to fill the engine. Along the railway were pumping stations called Nittaw, Holopaw and SouthBay. The railway went thru orange groves, the growers used it to ship to the markets (Florida Archives). Nittaw began as a stop along the Okeechobee extension of the Florida East Coast Railway. The name is an Indian word for "Day" or "Night", depending on which translation you prefer. Nittaw became a sawmill town, maintaining a small population. Its post office ran from 1934 to 1937, accepting the mail for nearby Illahaw from 1935 as well. The abandonment of the Okeechobee rail line spelled the end for Nittaw, and many of the other small stops along the way. Florida East Coast Railway was owned by Henry Morrison Flagler.
Jennie was sent by train to Jacksonville and was supposed to catch the train to New Smyrna. The lady that was supposed to watch her forgot about her and Jennie did not get on connecting train, so the woman took her home for the night and forgot to bring Jennies box of clothes. Jennie was put on the train the next morning, and the woman took Jennie's money so she could send her clothes to Kenansville. The conductor told her to go to the bathroom and clean up and sit right here till I come back. Jennie went to wash-up and when she came back there were women sitting in her seat and they lived next to HS. Ms. Coats was the wife of the section foreman and she came on her own to get Jennie and took her to her fathers house, Jennie remembers that Ms. Coats had five kids. Jennie's brother and sisters were at the home of HS. Jennie was only about 8 years old and doesn't ever remember being scared on the trip.
After her arrival at HS's home in Kenansville, Jennie remembered her brother and sisters pulled a joke on her. She had never seen any limes or guavas. When she got to Kenansville, her siblings gave her a lime and Jennie bit right down into it and she said "man was I fooled" and they got a big laugh however, the guavas were sweet but had an odd taste to them.

While in Kenansville, Jennie remembers that they were given a medication called 666. It was a medicine for malaria, chills and fevers. HS ordered a case of the stuff, it tasted awful and the bright yellow color didn't help. It was also sold as a salve. The name was derived from the prescription number and the original medication came from the Monticello Drug Company, located in Jacksonville, Florida. Since Jennie and her siblings had to drink water to take the medicine, they had to go out to the back porch. The well pump was next to a stump and Jennie states that the old stump never did get any chills or fevers, because it was filled with the remedy.
As a child Jennie she remembers that HS always wanted a grove and she really hated watering the orange groves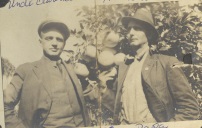 . She and Buell had to carry big ole buckets to water the trees. HS worked primarily three pump stations; Kenansville, Illahaw and Yeehaw, the pump stations were used for the steam engines on the trains. Years later, some other stations were Lake Pickett, Chuluota (pine Island) and Holopaw. Ms. Mary Lily Kenan (maiden name) Flagler named all the stations along the KV from New Smyrna to Okeechobee and gave them Indian names. According to the internet Yeehaw is a corruption of the Muskogee word yaha which means wolf and Illahaw was taken from Yalaha which means orange. According to Jennie, Kenansville was named in honor of Ms. Flagler's people and it was had a telegraph and it was the biggest station. There was a red brick hotel, schoolhouse and a bank building that was used for a post office and later a store. It is now almost a ghost town, even the school house has been closed down according to an article in the newspaper. The hotel was called HeartBreak Hotel and got its name, not from Elvis, but from being being a very out of the way place where people from nearby cities would sneak away for illicit love affairs. The legend has it that the Elvis hit song was inspired by this hotel.
HS job was to pump the water out of the ground into big yellow tanks and then the train would pull up at the pump station. He would let the chute down and the water would pour into the trains. If there was a wreck or extra trains, they would have to do extra pumping. HS stayed with the railroad for 30 years and retired after he was living in Osteen.

Jennie's third thru seventh grades were completed in Kenansville, Florida. Jennie Mae repeated the 6th grade due to the hospitalization of her father H.S. He had gotten very sick with kidney stones, Jennie was unable to purchased her supplies needed for school. HS got better and she was able to complete the 6th grade her second time.

While Jennie Mae was in school, she walked from home to school. At the time she was walking to school, she thought it was an extremely long way to walk. However, when she later returned to Kenansville, and thought to herself, it was not such a long way to walk. Each day of school, Jennie and her brother and sisters would walk home at lunch, fix their lunch meal for them and their father HS if he was at home. Most of the times HS was at the pump station working. Jennie was usually late getting back to school because of the walk back home.

In school, Jennie had a favorite teacher named Ms. Pritchard. She was crippled, and an "old maid". As my grandmother reminisced she said that maybe she was not such an old maid. Ms. Pritchard had to wear cork under one of the soles of her shoe to help her walk. Jennie remembers her as being fair and giving just treatment to every child.

Jennie also remembers that on the first day she got to school in Kenansville, that she was standing in the front of the class and there were not enough seats in the class. The teacher pointed to a young girl by the name of Marie Bass and Marie and Jennie became fast friends. Jennie named her daughter Elma Marie after her friend from school. Marie Bass married a man by the lat name of Dollar. Marie Dollar became a teacher and her husband worked for Marvin.

While in Kenansville Jennie remembers two other memories. The first involves what was known as the old Parker Place. The Parker Place was said to be haunted, many people heard music and other noises. Jennie went to school with Ruth Ferdic who came back to Kenansville as a teacher. Ruth went to the old Parker Place to get guavas. It got late and Ruth decided to spend the night and set about finding a room where she could sleep. Ruth kept hearing noises and finally got the nerve to check on it. As she anxiously opened the door she was greeted by an old sow and a bunch of grunting pigs. Must have been some fright.

Another event was after someone had given Buell a whooping crane. Granny went to sleep upstairs in the old railroad house. In the night Jennie woke to some scrambling noises, and it sounded like it was coming up the stairs towards her. What was it? Was there someone in the house? Were they coming to get her? She pulled the covers over her head, and was the most terrified she had ever been in her life. The noise kept getting louder and coming closer. All of a sudden, ----------Jennie heard the voice of her father: "BUELL, GET THAT WHOOPING CRANE OUT OF THIS HOUSE!!!" Jennie said she felt immediate relief to know that she was going to be safe that night. Jennie said they used to ride and play with that ole whooping crane, but that it would kill any biddies it got caught. The whooping crane would shake them till they died and HS finally got ride of it.
YEEHAW JUNCTION: The town was originally named "Jackass Junction". This name was given to the four corner site back in the early 1930s, when local ranchers rode on burros to visit the Desert Inn (then the local brothel) built in 1898. As the 1950s approached, the Florida legislature felt that a name change was due in light of the construction of Florida's Turnpike through the center of the community in 1957, resulting in renaming the town to its present-day name