Beerman Family
Masters Family
Taylor Family
Menorcan Family
Our families and their neighbors were transplanted from the wiregrass plains of southern Georgia to the palmetto infused and piney woods of Seville, Florida. Our family weaved its roots from the women and their men that fought in the Revolutionary War, settled in Georgia in the 1700-1800s and then fought in the Indian Wars, and the Civil War. Interwoven into the family are the Menorcans, who traversed the ocean, sailing thousands of miles in the bowels of a ship from the Isle of Menorca to New Smyrna Beach, Florida. The web reaches out to ancestors who were the first Jews that settled in Ohio and a German Sea Captain born in New Jersey and who sailed the high Seas and then settled the remote area of Daytona Beach, Florida. My ancestors could not see the future and how their lives told the story of our nation and resulted in the birth of my grandfather Elmer Cohen.
I have never been a person to remember names, even in family history; I need my computer or a chart to help me remember. An overhead of Elmer Cohen's family is helpful. On Elmer's paternal (father) side are the names of Cohen (William Joseph, William Henry and Joseph J. ) McClendon or Arnold (Martha-Mattie), Williams (Zilpha & John) , and Smith (Nancy & William), Platt, and Deas. On Elmer's maternal side are Botefuhr, Beerman, Hedwig, Carpenter, Kendall, Masters, Joaneda (Floyd), Mestre, Manucy & Dewees. Interwoven families that moved with us/or us with them, were Bennett, Harris and Sirmans.
All these named ancestors led to questions; questions to which I wanted to find at least some answers.
What lands, states, communities and towns have meaning to us today? What Oceans did our ancestors sail, where did their footsteps trod, and cross, and then settle? Based on my gathered information, today, I know their footsteps traversed the lands of Prussia (Germany), Ciudadela, Menorca, Swatow, China Neustadt, Mecklinburg, Lutjenburg, Holstein and the states of New York, Vermont, Pennsylvania, Ohio, North Carolina, South Carolina, Georgia and finally settling in Florida. Many areas have changed over the centuries, decades and years. Our familial communities include Homerville, Seville, St. Augustine, New Smyrna, Daytona Beach and Osteen. Two historical areas of interest to our family are now just names in the history books: the county of Mosquito, Florida and the town of Magnolia, Georgia.
My family history and search began with the stories shared by my maternal grandmother Jennie Mae Giddens Cohen. Jennie's husband, Elmer Cohen eventually settled in a small Florida southern community called Osteen. Osteen is named for those ancestral neighbors who also came from southern Georgia. Remember those boring history lessons in school? Remember the original colonies and their people moved south and settled in the Carolinas and Georgia. That American history is re-told in our personal families, and the subsequent stories making history truly come alive. Pioneers are those who open up a new territory and prepare a way for those to follow. We have followed, and one day if our descendants want to know why history impacts us and repeats itself, our stories will be told.
Historically, families traversed from many countries, settled and bonded together to make up communities and townships. These families depended on each other for survival in an environment that necessitated a home built by hand labor, trees felled and cut for timber as logs for a home or firewood to keep them warm or as fuel to cook their food. Our family's food was gathered from the land. Hunting, fishing, planting, and harvesting were the activities that brought in the staples to survive. Their food was prepared for survival of the seasons without the aid of electricity, refrigeration or a local corner store. Life was not ready made to order; order helped them to survive. We recall these as life's simpler times, but how many of us today could truly survive those simple times?
So where does the ancestors of my grandfather Elmer Cohen's story begin? History is written based on the information at the time of the person writing the story. Not all aspects or sides of the story are told. My father once told me there are always three sides to a story, one side for each person as they know it and then the third side is the fact(s) of the story. So bear in mind as I weave the story of my ancestors, not all aspects will be pleasant. Some stories are exciting to learn, some are hard to tell and some harder to know that the items of history are factual.
As I began to follow the web of family and history, I wanted to explore travel during the 1800's and also learn about the area in lower Georgia that impacted my ancestors. So let us begin with a bit of History lesson. The first three counties created look nothing like the state of Georgia today. The first three counties in Lower Georgia were Appling, Irwin and Early.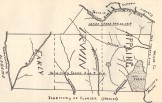 As I sit in a townhouse, on a small piece of property bearing my name as the owner, I think of the history of a piece of land. So the Indians ceded the lands of Georgia, cede means to give over or surrender, relinquish the physical control. The Indians ceding of land to me is interesting, since the Indians believed they did not own the land they were simply the guardians. Our ancestors came into the lands, measured it, meted it out and over time we became owners of the land. The Indians no longer had rights and became the enemy to be ousted from their homeland.
What was happening in lower Georgia, during the 1800's?
According to "The Story of Georgia and the Georgia People", Appling County, Georgia was almost an unbroken plain of pine forests. The Altamaha was on its northern and eastern border. There was some good land on this river and but much of it was a wide, wild swamp, too low for cultivation, while away from it there was an unbroken pine forest.
There were some large cattle ranches and many sheep, but there was little attention paid to agriculture for many years. The people were sheep-raisers and cattle-men and timber rangers. The same story told of Irwin and Emanuel after the war is true of Appling. Railroads came, the lumber mill and turpentine still followed. Handsome towns sprang up and the population was increased. The first settlers in Appling were frontiersmen, but little attention was paid to schools or churches.
With the first opening of the country Methodists sent Missionaries into these wilds and the Baptists came with the first settlers. The churches, however were few and far apart, and the school advantages for many years exceedingly meager. The population of this county in 1820 was 1,264; in 1830 there were 1,468 and in 1850 3,050. There was much of the county peopled by North Carolinians, who were timber-rangers, but after the was a different class of North Carolinians came in, who were turpentine distillers, and now there are in the county several thrifty towns along the railway.
According to the "History of Clinch County", the first Baptist Church in the vicinity of Homerville and where the Homerville Baptists worshipped, was at the northeast of the town. This old church was established about 1852. After the war, this church was abandoned and the Baptists worshipped in the court house at Homerville. This privilege was granted by the grand jury in 1868, and it was availed by both denominations.
The Methodist church was established in 1875. There had been no building here previous to that time to worship in, and the few Methodists met occasionally at the court-house and worshipped. The Sunday School of the Methodist Church at Homerville is probably the oldest existing school of its kind in the county. The Sunday School has been in active condition since 1876. Prior to this time there has been an undenominational school led by Mr. and Mrs. Robert B. Crum. The town lot whereon the parsonage was located, was bought of A.S. McLendon in 1883, the price being $250.00.
How did our ancestors travel?
According to Gary Gorton in his paper entitled "Ante Bellum Transportation Indices", In pre-Civil War America there were three main modes of transportation used for the transportation of people: stage-coach, steamboat, and railroad (other primary forms not discussed are walking, horseback and wagon).
Travel by stagecoach was primitive. Travellers were subjected to grueling long rides, frozen in winter, hot in the summer, were robbed, attacked by Indians, and often had to push and pull the coaches after the horses died or were hobbled (crippled). Also, coaches were overturned and were blown off bridges by high winds. On some of the remote western routes coaches were nothing more than covered cabs and afforded little protection against a cold winter. A good stagecoach could travel at an average of about 6 to 8 miles per hour, but that was on a very good road. Most of the improvement in stage travel occurred prior to 1840.
By 1830 the steamboat was the dominate mode of travel and it had its own set of perils. Steam navigation of western rivers presented serious and unusual hazards. The level of water in the rivers was subject to exceedingly wide and sudden fluctuations. At Cincinnati the spread between high and low water might vary forty feet or more within a few weeks. Steamboats were often tied up for lack of water in summer months, and had to combat the roaring floods of fall and spring. Ice which closed the river to navigation in winter became a floating menace when the spring moved northward, freeing tremendous flows in successive tributaries. Extended periods of low water made ledges and rock and sand bars a dreaded threat; to these must be added the greatest menace of all snags. Great trees thrown into the water by constantly crumbling banks became caught in the river bed where, year in and year out, they caused more damage to steamboats than any other single cause. Of all western steamboats built before 1849, nearly 30% were lost in accidents of one kind or another.
Improvements in roads, stagecoaches, and steamboats helped reduce the costs and duration of trips. The first American railroad was operating in 1826. By 1860 there was over 30,000 miles of track in the U.S.
Railroad costs differed significantly between the North and the South. Almost from the beginning, railroads provided the fastest known method of passenger transportation. Early speeds of 10-15 miles per hour were about doubled, so that by 1860 a speed of 20 miles was not uncommon for the better roads, some averaging 25-30 miles per hour. Passenger fares, though still appreciably higher than those by water, were fairly low during the late 1840s and the 1850s. In 1848 rates a mile averaged 3 cents or less in New England, 2.5-3.5 cents in New York, less than 4.5 in the west and 4-5 cents in the south.